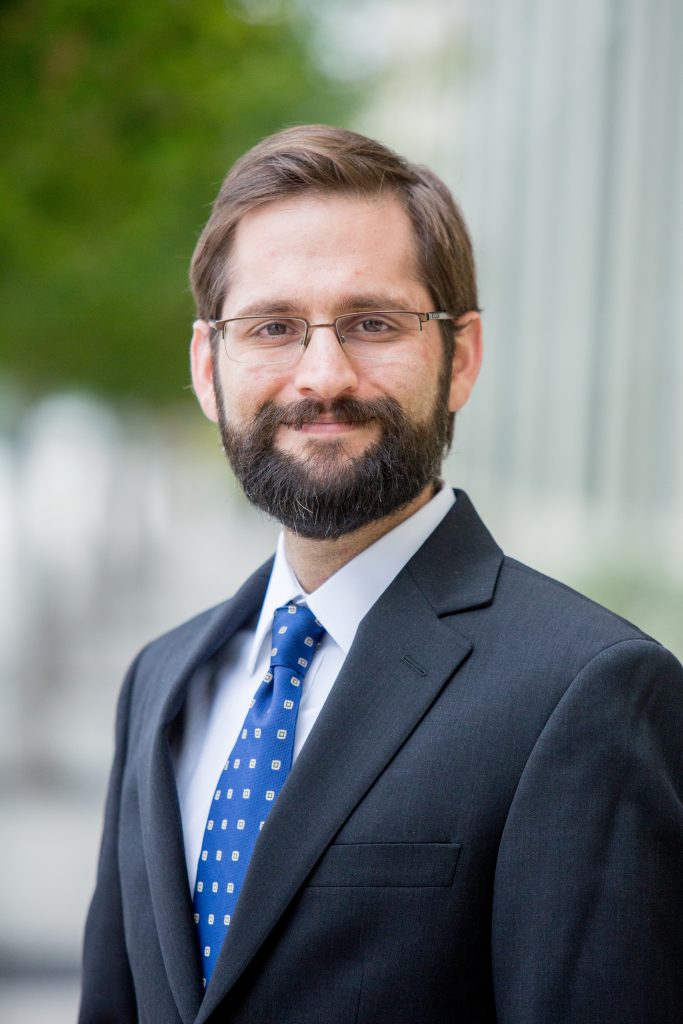 Adam joined Burlington & Rockenbach, P.A., as an associate in 2012.  He practices civil appellate law and provides trial support.
Before entering private practice, Adam worked as a judicial clerk for Judge Robert M. Gross of the Fourth District Court of Appeal in West Palm Beach.  Writing bench memoranda for the court, he analyzed and briefed approximately 200 cases.
While in law school, Adam was a member of the Journal of Transnational Law & Policy, where he served as an article editor and then editor-in-chief.  He also was an intern for Judge Philip J. Padovano of the First District Court of Appeal in Tallahassee, a research assistant for the late Professor Dan Markel, and an intern at the Innocence Project of Florida. 
In college, Adam's majors were History and Russian Studies.  He spent two semesters in Moscow, Russia. 
Adam was born and raised in Palm Beach County.  He enjoys spending time with his wife and their dogs (a Chow/Lab mix and a Chihuahua), watching television and movies, reading, and traveling in Europe.
Education
Stetson University, B.A., with honors
Florida State University College of Law, J.D., with honors
Memberships
Florida Justice Association
Palm Beach County Bar Association
Palm Beach County Justice Association
Bar Admissions
The Florida Bar, 2012
U.S. Court of Appeals for the Eleventh Circuit
Publications
Feature, Reversed and Remanded for a New Trial: A Guide to Retrial in Civil Cases, Fla. Bar J. (forthcoming July/Aug. 2018).
Appellate Column, Appellate Review of Orders on Defense Motions to Transfer Venue for Forum Non-Conveniens & Implications for Litigating the Issue in the Trial Court, Journal of Fla. Justice Ass'n, July/Aug. 2017.
Appellate Column, Ensuring the Success of Your Motions in Limine and Preserving the Record for Appeal, Journal of Fla. Justice Ass'n, Sept. 2016.
Appellate Column, Contrary to What You Might Think, a Lawyer Can Be a Witness, Journal of Fla. Justice Ass'n, Jan. 2014 (co-authored with Bard Rockenbach).
Feature, Florida's Medical Malpractice Presuit Requirements: Speed Bumps and Roadblocks on the Road to the Courthouse, Journal of Fla. Justice Ass'n, Dec. 2012.
Representative Cases
Weaver v. Myers, 229 So. 3d 1118 (Fla. 2017) (for amicus curiae Florida Justice Ass'n in support of petitioner)
Hartford Fire Ins. Co. v. Smith, 203 So. 2d 1013 (Fla. 4th DCA 2016)
Underwater Engineering Servs. v. Utility Bd. of City of Key West, 194 So. 3d 437 (Fla. 3d DCA 2016)
Coccaro v. GEICO Gen. Ins. Co., 648 Fed. App'x 876 (11th Cir. 2016)
Go v. Normil, 184 So. 3d 554 (Fla. 4th DCA 2016)
Hensley Chalfant, P.A. v. Guardianship of Flannigan, 198 So. 3d 653 (Fla. 2d DCA 2015)
Arnold v. Sec. Nat'l Ins. Co., 174 So. 3d 1082 (Fla. 4th DCA 2015)
Nandlal v. Montero, 597 Fed. App'x 1021 (11th Cir. 2014) (unpublished)
Duong v. Ziadie, 155 So. 3d 377 (Fla. 4th DCA 2014)
Orthopedic Care Ctr. v. Parks, 155 So. 3d 377 (Fla. 3d DCA 2014)
Safeco Ins. Co. of Ill. v. Beare, 152 So. 3d 614 (Fla. 4th DCA 2014)
Stratton v. Port St. Lucie Mgmt., 149 So. 3d 100 (Fla. 4th DCA 2014) (for amicus curiae Florida Justice Ass'n in support of appellant)
Heylin v. Gulfstream Property & Casualty Ins., 147 So. 3d 659 (Fla. 5th DCA 2014)
Castellanos v. Target, 568 Fed. App'x 886 (11th Cir. 2014)
Lopez ex rel. Lopez v. Andie's, Inc., 137 So. 3d 528 (Fla. 4th DCA 2014)
Steinberg v. Winn-Dixie Stores, 121 So. 3d 622 (Fla. 4th DCA 2013) (on rehearing)
Homeward Residential v. Rico, 110 So. 3d 470 (Fla. 4th DCA 2013)